The latest movie starring Kannada real star Upendra is 'Kabja'. Pan India is preparing for this movie. The film is directed by R. Chandra. In the past, Upendra and Chandra combination films 'Brahma' and 'I Love You' came in Kannada. Chandru did the English movie 'Krishnamma Kalipindi Iddarini' with Sudhir Babu. 'Kabja' is the third upcoming film in the Upendra, Chandra combination.
The film unit released a poster two days ago saying there was a big announcement on the occasion of the wallpapers. 'U +?' In this poster. Find out who is going to join in the question mark. It is clear that the 'U' in it is Upendra, the protagonist of the film. There was a discussion as to who the question mark is for. Most people thought she might be the heroine. But, this is a multistarrer movie.
Another suspense thriller 'Miskin Psycho' from 'Detective' director
The question mark was revealed to be Kannada Badshah Kichha Sudeep during the Sankranti festival, dispelling all speculations. To this extent a short video, the look also left. Kicha Sudeep plays the role of Bhargav Bhakshi. This character will be in the period 1947-1986. The movie unit aroused the most interest by writing on the poster that it is a character who will end the mafia.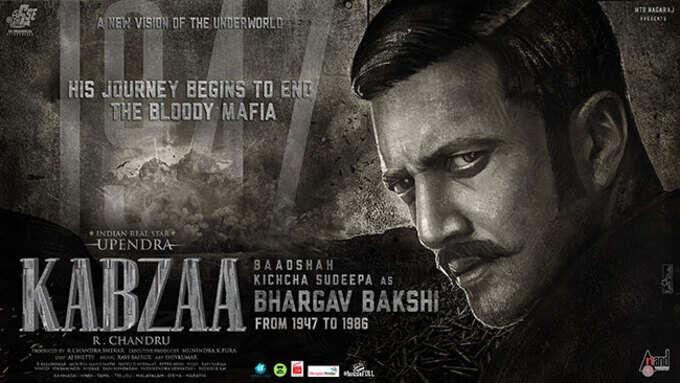 However, it is not new that Upendra-Kichha Sudeep are acting together. They have previously acted in the Kannada remake of the Hindi movie 'O My God' 'Mukunda Murari'. It is known that the same movie was remade in English as 'Gopala Gopala'. Sudeep played the role of Pawan Kalyan in English and in Kannada. However, this is a completely different film to it.
The film is set in 1947. Going to show a new dimension in the Underworld. Upcoming 'Panja' as a Pan India movie is going to be made in all languages. English is one of them. The 'kejiyaph' music is by the music director Ravi basrur. AJ Shetty presents the cinematography. Mahesh Reddy Editor. Shiv Kumar Art Director. R. on the banner of Sri Siddheshwara Enterprises presented by Lanco Sridhar. Chandrasekhar, Kevin munindra. Pura producing the film.
.