new Delhi
Virat Kohli achieved another feat as he reached a score of 23 in the third match of the ODI series against Australia on Wednesday. In the match played in Canberra, Kohli scored 63 runs. During this, he broke the record of Sachin Tendulkar to achieve this record in the lowest innings.

Virat completed 12 thousand ODI runs in 242 innings, while Sachin Tendulkar played 300 innings to reach here.

Virat and Sachin have been comparing for a long time. Virat has reached very close to Sachin Tendulkar's record of breaking 49 ODI centuries. He has scored 43 centuries in ODIs and now Sachin's record is not far away.

Surprisingly, Virat has been ahead of Sachin by 1000 runs figures. As far as innings are concerned, he has reached every time in less innings than Sachin.

While Sachin had completed 10,000 ODI international runs in 259 innings, Virat did this in 54 fewer than 205 innings. After this, in 11 thousand and then 12 thousand also Kohli was far ahead of Sachin.

This is a data-based comparison. The circumstances for any major debate, the bowlers of the opposition team, the batting order, the conditions of the match, the rules of the game regarding the ball and fielder, etc. will also have to be taken care of.

When Sachin Tendulkar completed 12015 runs in ODIs, he hit 1249 fours while Virat has scored 12040 runs and 1130 fours so far.

Another comparison can also be that at the time of reaching 12000 runs, how many runs were scored by both of them at home or abroad.

Sachin completed his 12000 runs in the 2003 World Cup match against Pakistan at Centurion. Starting the innings with Virender Sehwag, Sachin scored a blazing 98 runs. With the help of his innings, India had chased 274 runs. India won that match by 6 wickets. Sachin was the man of the match. Sachin had 12015 one-day international runs after the match was over.

At the same time, Virat scored an innings of 63 against Australia. India won the match by 13 runs.

Sachin had scored 4015 runs out of his 12015 on home soil and 8000 runs on foreign grounds. At the same time, Virat has made 4865 on home ground and 7175 on foreign ground.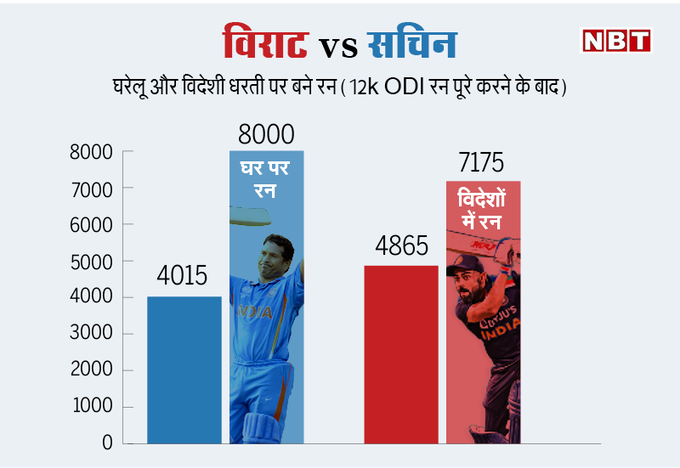 Sachin had hit 135 sixes while completing 12015 runs.
Virat Kohli has scored (12040) runs in his ODI international career and has hit a total of 124 sixes.
Both Sachin and Virat have been run-machines for India. Sachin has performed in Tests and ODIs. He worked to change Indian cricket. At the same time, Virat carried forward the Indian batting tradition. Virat has said many times that Sachin is his idol. After the 2011 World Cup win, he also made Sachin sit on his shoulder and circled the field.
Now the strike rate
Now let's look at the strike rate of both batsmen. In this graphics, let's see what the strike rate of both batsmen was when they reached the 12000 mark.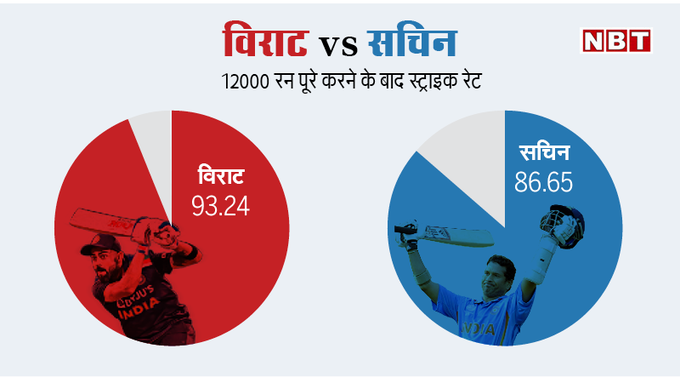 This shows that when Sachin scored 12015 runs, his career strike rate was 86.65. His strike rate for 4015 matches made at home grounds was 88.55 while at neutral grounds it was 89.57. And it was 79.69 on the opposition team's home ground.
In comparison, Virat crossed 12000 runs in international cricket in Canberra on Wednesday, his strike rate is 93.24. The strike rate is 96.89 at the domestic one-day international. On the neutral grounds, Virat has a strike rate of 90.43. At the same time, his strike rate on the ground of the opposition team was 91.13.
Virat became the sixth batsman to score 12000 runs in One Day International on Wednesday. The list includes – Sachin Tendulkar, Ricky Ponting, Kumar Sangakkara, Sanath Jayasuriya and Mahela Jayawardene.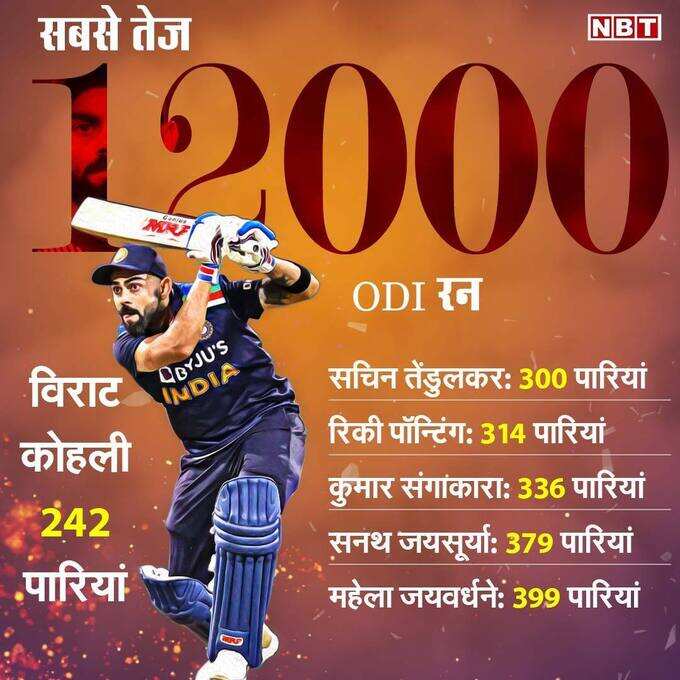 .