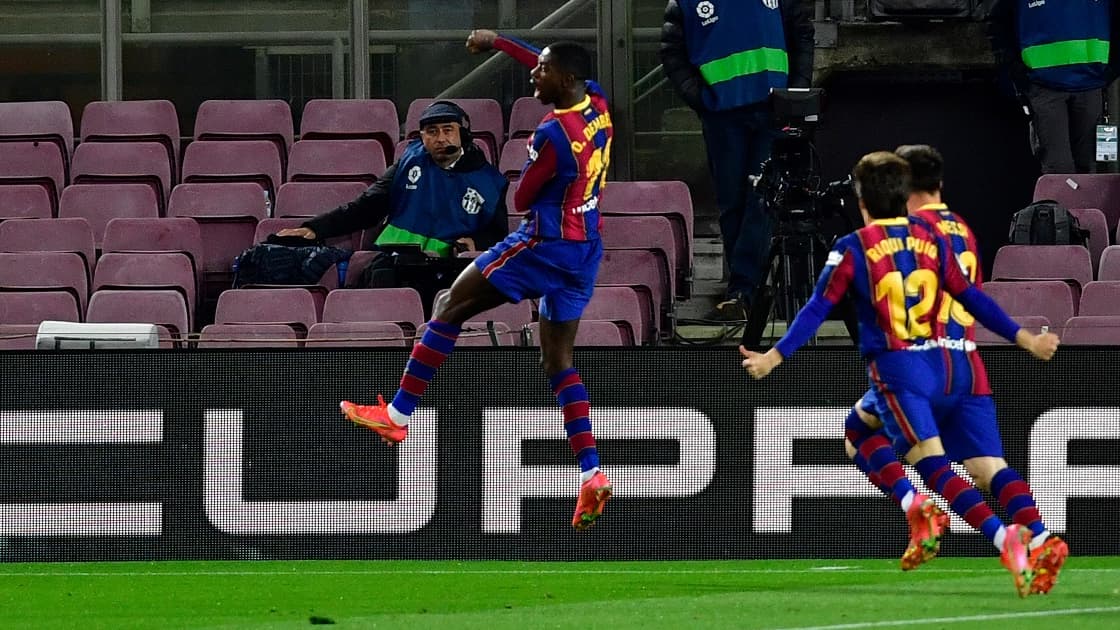 FC Barcelona snatched the 1-0 victory on the wire against the 16th of Liga, Valladolid, this Monday for the 29th day, and returns to a small point of the leader, Atlético de Madrid, defeated Sunday in Seville.
Ronald Koeman can say thank you, because Barça struggled to win (1-0) on Monday, against 16th in Liga. The French Ousmane Dembélé appeared in the last moments of the match to score the only goal of the game with a nice volley from the left against Valladolid (90th). He had already been involved in one of the turning points of the match ten minutes before, causing a foul that earned Oscar Plano (79th) a direct red card for a dangerous tackle from behind.
The result was slow in coming for Barca, but it is there, with three extremely valuable points in the title race, which allow the Catalan club to come back only a small point behind leaders, Atlético de Madrid. And all this less than a week before the Clasico which will be played on Saturday at Real Madrid. A shock that Lionel Messi would not have missed for the world.
Barça has all the cards in hand
The Argentine genius has combined a lot with Ousmane Dembélé, the hero of the evening on the Catalan side, whose game has often gone through the No. 10, strangely nervous at the break. Spanish television cameras captured footage showing the six-fold Golden Ball railing against the referee, which he feared would warn him during this match.
And for good reason, Lionel Messi was under the threat of a suspension in the event of a yellow card, which would have deprived him of the match against Real Madrid. However, if Griezmann has been warned, this was not the case with Lionel Messi, who will therefore be available to his coach next weekend. Thanks to this success against Valladalid at the end of a sluggish performance, Barça has its destiny in hand to be champion. The planned return leg against Atlético could decide the identity of the champion this season.