Power star Pawan Kalyan has acted as a lawyer in the movie 'Vakil Saab'. It is known that this movie is being made as a remake of the Hindi super hit movie 'Pink'. Directed by Sriram Venu, the film stars Shruti Haasan opposite Pawan Kalyan. Niveda Thomas, Anjali and Ananya Nagal played other important roles. Dil Raju and Shirish are producing the film under the banner of Sri Venkateswara Creations, courtesy of Bonnie Kapoor Bay View Projects with music by Taman.
The already released First Look poster has created a Magua Magua song sensation. Now the teaser from this movie has been released. This teaser that Pawan Kalyan fans have been waiting for from time to time has come to the forefront of the audience during Sankranthi. This teaser is also sure to shake up YouTube. Before the release of the teaser, 'Vakil Saab' started airing on social media. After the release of the teaser, the Twitter volume is sure to go up.
Mahesh Babu releases Shivani Rajasekhar 'WWW' teaser
Meanwhile, Pawan Kalyan looks very good in a lawyer look. In fact the role was played by Amitabh Bachchan in Hindi. Heroism does not appear in the role of Amitabh. Ajith played the same role in Tamil. Heroism was shown there. The same formula was followed in English. Pawan Kalyan movie has to have all the elements. Hence, commercial elements are added to the story with a social message and brought to the front of the audience.
In this teaser, especially Pawan Kalyan showed manorism and heroism. The words in this teaser started with the dialogue that Pawan Kalyan angrily says 'Objection Uvaranar' Pawan Kalyan's dialogue with the villains on the Metro train elevates the heroism, saying, "I know how to argue in court. I know how to take off my coat." Another major attraction of this teaser is Taman's background music. All in all this teaser is a feast for Power Star fans.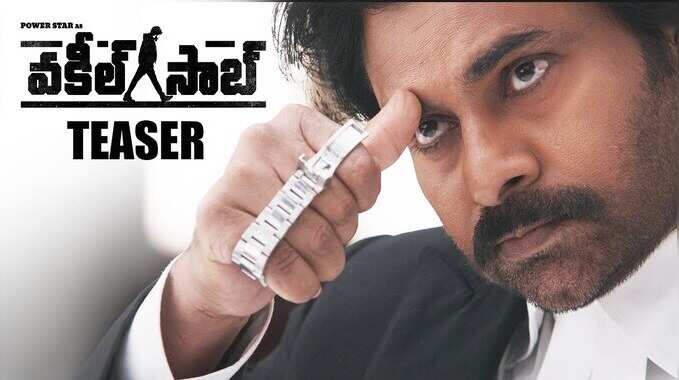 'Lawyer Saab' Teaser: Power Star Action Feast
.