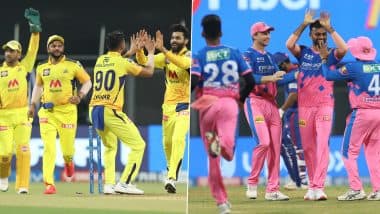 Chennai and Rajasthan will compete today (Photo credits: Twitter)
Mumbai: The 12th match of IPL 2021 will be played between Chennai Super Kings (CSK) and Rajasthan Royals (RR) on Monday from 7.30 pm at Wankhede Stadium in Mumbai. In this match, both teams will come down with the intention of winning. CSK has reached Punjab (PBKS) here, while Rajasthan defeated Delhi Capitals (DC) in their last match. Both the teams are filled with one another. IPL 2021 CSK vs DC: Prithvi Shaw, who scored a quick run against CSK, broke silence on his return to Team India, said these things
Today's match can be full of thorns. Both have good batsmen. CSK's move is heavy. CSK and RR teams have clashed 23 times in the history of IPL where Chennai has won 14 matches while Rajasthan has won 9 matches. In today's match, these players will be watched.
These players will be watching
Suresh Raina
Suresh Raina, the batsman who scored a brilliant half-century in the first match, has an old relationship with Rajasthan. Raina's performances are very good against Rajasthan. This CSK batsman has taken the class of Rajasthan bowlers many times. Everyone will be watching Suresh Raina in this match too. Raina's Wankhede is also a favorite ground. It will be interesting to see what Raina creates.
Ravindra Jadeja
Fielder like Ravindra Jadeja meets with great difficulty. Everyone saw this in the last match. Jadeja is amazing not only with bowling but also with his agile fielding. CSK won the match thanks to excellent fielding in the last match. There is a lot of hope from Jadeja in this match too.
Deepak Chahar
Deepak Chahar brought Punjab on his knee in the last match. Deepal Chahar specializes in swing. Chahar has bowled out the best of his bowling. Chahar had sent 4 batsmen to the pavilion in the last match. CSK has high hopes in this match too.
Sanju Samson
Rajasthan Royals captain Sanju Samson played a stormy innings against Punjab in the first match. He was out early against Delhi but today the match is with CSK and Sanju Samson will have to play a big innings.
Jose butler
If the batsman bats the batsman of England, good bowlers give up sweat. Nothing special has happened to Butler's bat yet. Butler has increased a lot after Ben Stokes is out. In today's match, everyone's eyes will be on Butler.