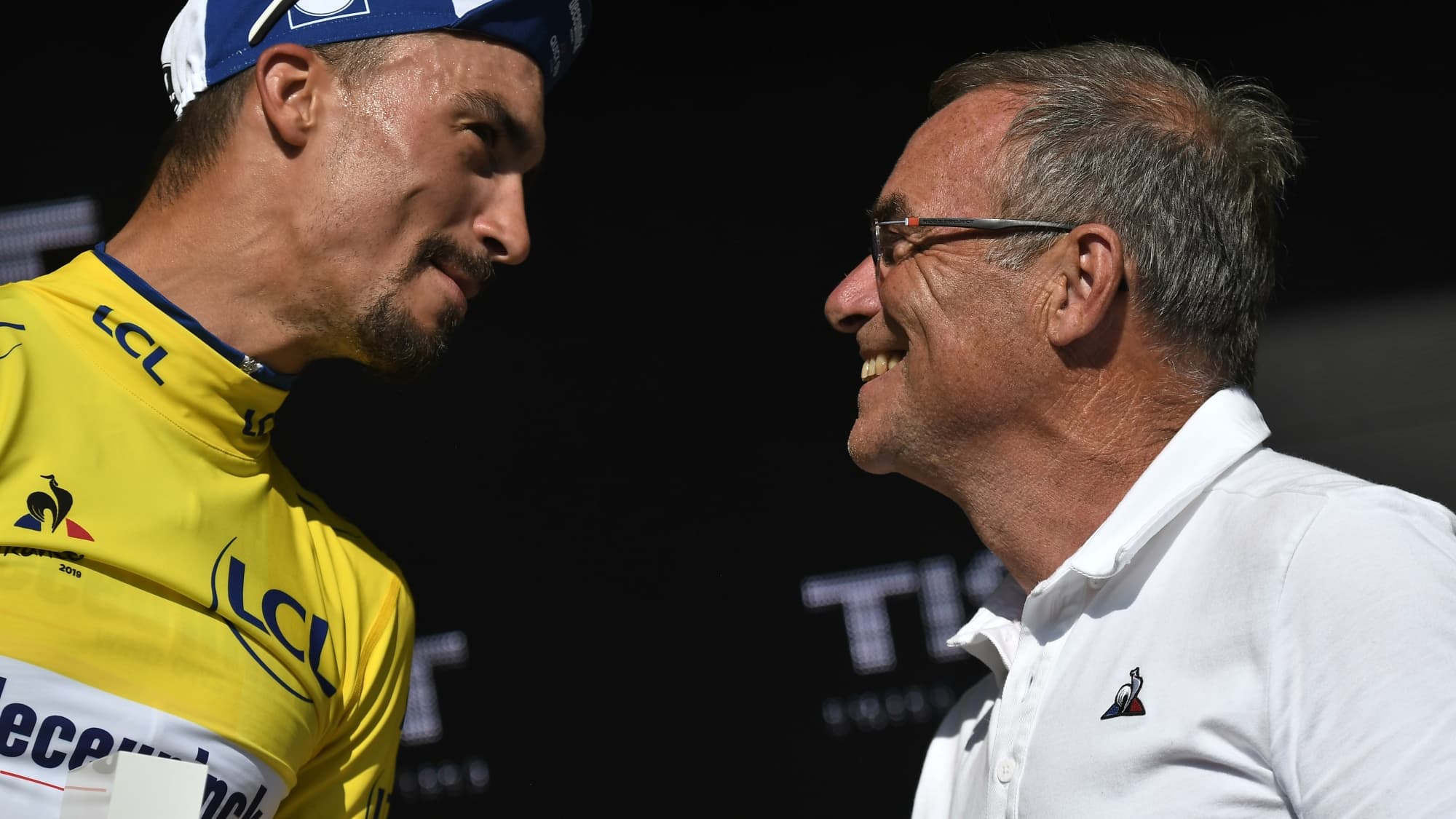 Forty years after his legendary victory over Liège-Bastogne-Liège under the snow where only 21 riders out of 174 will finish, Bernard Hinault is waiting for a Frenchman to succeed him. Five days from one of the monuments of cycling, he casts a protective gaze on Julian Alaphilippe.
Bernard Hinault, 40 years after your epic victory under the snow and the cold that had frozen your fingers, do some old pains reappear when the dean approaches?
It does not bring them back, they are there. It's especially when it's cold, I have hyper-sensitive fingers. But it's not a psychological pain, maybe because that day I won. But as I often say I didn't have to take the start. I could have done like the others to give up. But once we're gone, we're gone. It's not the strongest moment of my career, but it's a really special day because of the snow and the exceptional conditions. We have rarely seen races with conditions like this.
It is one of the five monuments of cycling, what are its particularities?
When we did it it was different because over the last eighty kilometers, you had the sixteen difficulties. Today, it is better distributed and the arrival is no longer in the same place. It's never easy but completely different.
Julian Alaphilippe wears the world champion's jersey, has having this jersey on your back during the 1980-1981 season changed anything for you?
No nothing. We had to compete, to be in front every day as usual. There are a few more obligations. And for me that had changed a little bit because I had put myself in conditions much earlier than usual. At the end of March, I was in conditions as for the Belgian classics because we have to honor this jersey. Its very important.
What do you think of Julian's start to the season?
It is more than correct. He won, he is present. He also has the jersey on his back so it might be more difficult to go after some wins because you have everyone on the coat. But it's part of the race so you have to be even stronger than the others.
Do you have the feeling that this swimsuit weighs on him? Perhaps because there is more media coverage than forty years ago …
No, I do not think so. He is someone who is balanced, someone who knows his abilities well. I don't think that makes much difference for him. I trust him. He has his feet on the ground. He is well in his head. He's not going to go beyond his means to show off his jersey. He will do it when he is truly able to do it.
Is he the number one French rider to succeed you in this race?
It would be great if he could win it but there are a lot of people. It has already been placed and on the Flèche Wallonne as well. We already have to know who will be at the start and we will see the riders' performances on the Flèche tomorrow. This is an indication because the final difficulty in the wall of Huy shows the strength and abilities of each runner. Those who are in the top ten are more likely to be at the finish of Liège-Bastogne-Liège.
Julian Alaphilippe struggled to keep up with the best on the Amstel, can he regain his best level in eight days?
There is no reason. He knows how to prepare. If that's a goal for him, he'll be there. And then there is also the team game. They will end up with several contenders for the final victory and Julian can serve as a bit of a scapegoat by blocking everyone else, which will allow another to go and race and win it.
He will have the advantage of having neither Van Aert nor Van Der Poel, did their start to the season impress you?
We are always impressed by these new generation riders. There is also the little Englishman Pidcock who is doing really well after having done a cyclocross season. We have a very good generation of young people. They don't ask questions and there are others like Evenepoel. I do not understand that we did not put it a little on the classics. He will attack directly with the Tour of Italy, it's a small mistake. But we will see the result at the exit.
The Tour de France starts in two months, do you have any concerns because of the sanitary conditions?
You have to be calm. The Tour took place last year in somewhat special conditions. It will be a bit the same. We won't have people close to the finish line because of the Covid, but I think we have to be confident. The runners will be able to compete more so the physical conditions will be better. There are candidates for the final victory who will be there, others who may want to go to the Olympics and who will stop during the Tour. It's a bit special but there is one who will win the Tour!