Chandigarh
Regarding the Protest of the farmers, users are giving different types of reactions on social media. Farmers are getting support from many people, while some people are calling it an opposition conspiracy. Khalistan organizations are also being linked to demonstrations of farmers. There is also a ruckus on Twitter-Facebook over pictures and video clips of protesters coming from the Protest.

In one such video of the farmer movement, questions were raised on social media about the English-speaking protestor. Famous filmmaker Vivek Ranjan Agnihotri tweeted the video and expressed doubts over the protester being a farmer. He said in his tweet tweet, "Hahaha .. poor landless farmers, for which people are crying." Vivek has also tweeted several more about the protester seen in the video, in which he is seen in support of Khalistan.

Union Home Minister Amit Shah's assurance did not work, farmers are frozen on Delhi border

'Attempt to Murder' case on farmer who shut down water canon running on protesters

Protesters told the pro-Khalistan
One of Vivek's tweets contains an old video where the protesting farmer is saying something in support of Khalistan. Vivek has tweeted many such videos. However, people are also criticizing him for these tweets. Film actress Richa Chadha responded to Vivek Agnihotri's tweet saying that what he is describing as Khalistani is actually a Punjabi actor.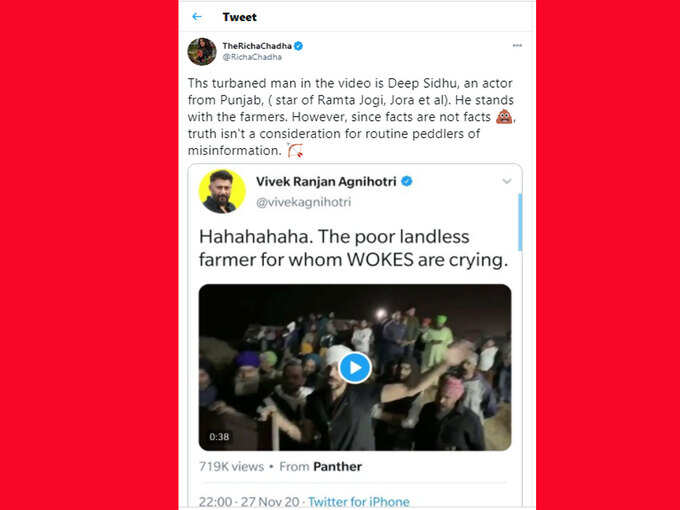 After such behavior with farmers in Haryana, there is no scope to talk to Khattar now: Amarinder
Richa Chadha replied
Richa said in her tweet, 'The man in the turban in this video is Deep Sidhu. An actor from Punjab (star of Ramta Jogi). He stands with the farmers. ' He further wrote that truth is never negotiable for people selling misinformation. Vivek Agnihotri replied on this counterattack by Richa. He wrote, 'Facts are not facts, if he is coming from you. Your stars, who stand with the farmers, they also stand with the terrorists, but in your world, terrorists are great people.
Union Home Minister Amit Shah's assurance did not work, farmers are frozen on Delhi border
Counterattack
Vivek further wrote that the next time I dare to tack before spreading white lies. It is worth noting that Deepak Sidhu is allegedly seen in the video shared by Vivek Agnihotri. He is seen saying that Jarnail Singh Bhindranwale had fought for a strong federal structure, but he was coined against it that he was a terrorist.
.