The bail plea of ​​Bharti Singh and his Harsh Limbachia, arrested in the drugs case, will be heard in the court today, in which it will be known whether the two will get further relief in this case.
On Sunday, Bharti and Harsha were first taken for medical examination, after which they were produced before the magistrate and sent to 14 days judicial custody.
Hearing on bail application today, government lawyer said – will ask for second date
Government lawyer Atul Sarpande said that the Narcotics Control Bureau (NCB) will file its reply today on the bail plea of ​​Bharti Singh and her husband Harsh Limbachia. Sarpande said that since he is busy in other matters today, he will request other dates from the court.
Read: Drugs case: Bharti Singh and Harsh Limbachiya sent to judicial custody till 4 December
86.5 grams of hemp recovered in raids
Explain that on Saturday, November 21, NCB raided Bharti Singh's house and production house, in which he recovered 86.5 grams of hemp. During interrogation, both also confessed to the consumption of cannabis.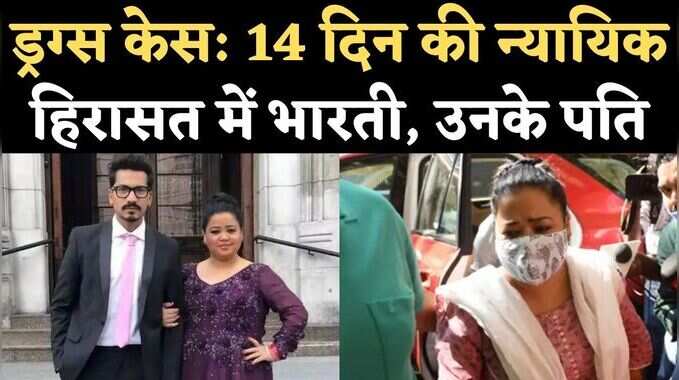 Drugs case: Bharti and her husband Harsh in 14-day judicial custody

This charge on Bharti and Harsh
Atul Sarpande had told about this that Bharti Singh has been charged with consumption of cannabis, while Harsh Limbachia has also been charged with financing. He said that Harsha also has links with other drug peddlers. When asked if Harsha was also supplying drugs, the government lawyer did not respond.
.