Highlights:
Road dug along Delhi border adjacent to Delhi in view of farmers' demonstration
Movement of vehicles banned on Haryana's Karnal highway, tight security arrangements
Strict security arrangements on the highway, farmers are moving towards Haryana via Haryana
Rajesh Poddar, Chandigarh
The Haryana government has made tight security arrangements to stop the protesters amid protests by farmers coming from Punjab to Delhi via Haryana. Roads near Ganaur have been dug on the Delhi Karnal highway to prevent protesters from entering Delhi. No vehicles have been allowed to move on the highway, not just the farmers. Tight security arrangements have been made here, sealing all the boundaries of the state of Haryana.
Farmers protesting against agricultural bills are preparing to come to Delhi via the Singhu border. Thousands of farmers have left for Delhi through this route. A large number of police forces have been deployed here to stop the farmers. On the other hand, drone cameras have been installed on the highway to monitor every movement.
Farmers traveling from Punjab to Delhi, trying to stop in Karnal
Monitoring by drone on highway, alert issued
Explain that water cannons and tear gas bullets have been used to stop the protesters at many places in Haryana amidst the agitation by farmers. On the issue of performance, while the governments of Haryana and Punjab are face to face, on the other hand, there have been uncertainty about the performance of farmers from Haryana to Delhi.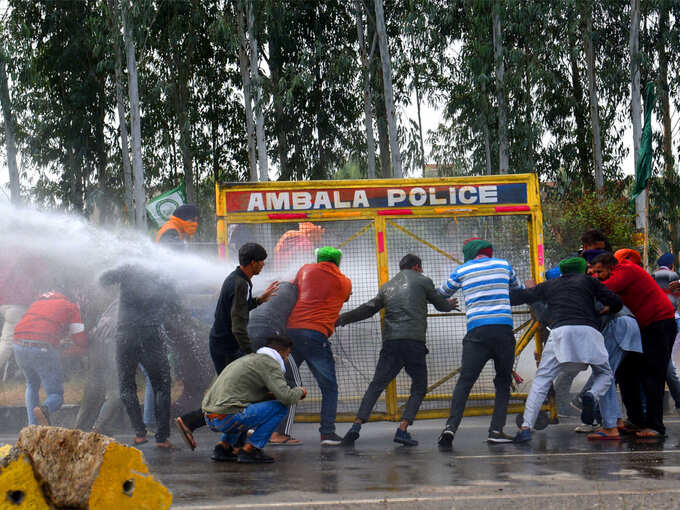 DGP said – strict action will be taken against miscreants
Haryana DGP Manoj Yadav has said that several unruly elements have also been involved in the protesters which are causing damage to public properties. The DGP has said that strict legal action will be taken against such miscreants.
.