After the level of fitness in the Indian cricket team, the level of fielding has also increased significantly. Earlier, where foreign players could easily take two runs by playing shots outside the circle of thirty yards, today they have to think many times before doing so. The Indian team has many great fielders like Virat Kohli, Ravindra Jadeja, Manish Pandey and Hardik Pandya. But Virat Kohli says that he would choose Ravindra Jadeja if he had to throw one for someone to save his life.
In fact, Starasports asked a question on social media to keep the fans with cricket amid the lockdown. He wrote in the question "If you have a chance to hit the ball once on the stumps to save your life, which player would you like to choose for that throw – Virat Kohli or Ravindra Jadeja.
Responding to this question, Virat Kohli said "Jaddu, always. Here the debate ends."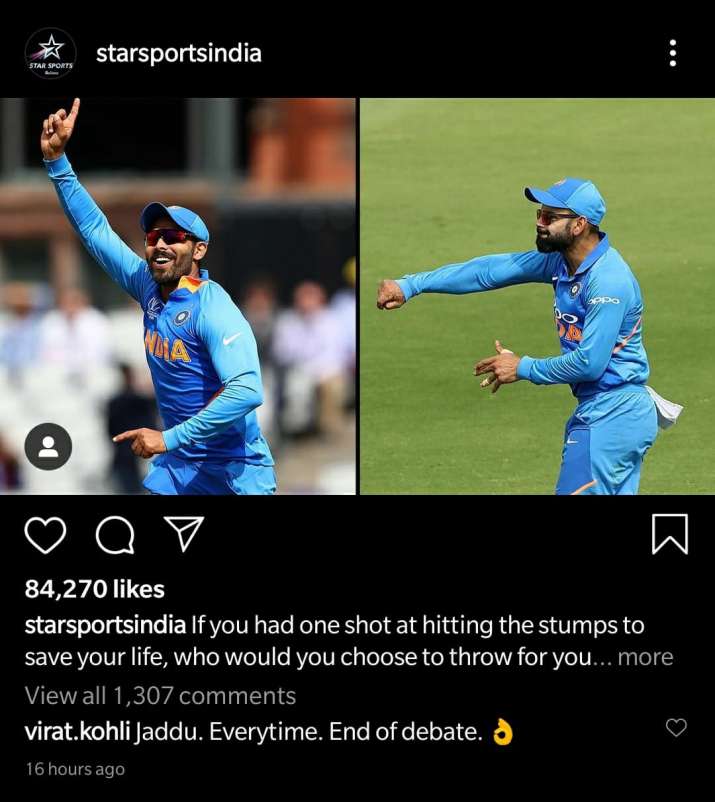 Debate ended! Captain Virat Kohli will Choose Ravindra Jadeja For throw to save his life
Remarkably, due to the coronavirus epidemic spread across the country, everyone is forced to stay at home. In such a situation, Indian captain Virat Kohli has started being very active on social media. Recently, Virat Kohli also trolled Indian leg-spinner Yuzvendra Chahal.
Also read – Why did West Indies lose to India in 1983 World Cup final, Holding revealed
Actually, Chahal's IPL team Royal Challengers Bangalore has given information about their one innings statistics played against Himachal Pradesh in Cooch Behar Trophy-2008-09 in Bengaluru. The franchise has stated that Chahal scored 135 and 46 runs in that match of the under-19 team and 281 runs in the entire tournament. The franchise wrote with the post, "The game in the upper order will be good, Yuji."
Virat Kohli commented on the post "Definitely in the exhibition match."
Also read – Who is better batsman in Virat Kohli and Rohit Sharma, Mohammad Shami gave this answer
Earlier, Chahal had made a funny comment on a post by Virat Kohli's wife and Bollywood actress Anushka Sharma, that he once asked Virat Kohli to get Chahal open.
Corona to Jung: Full Coverage
.