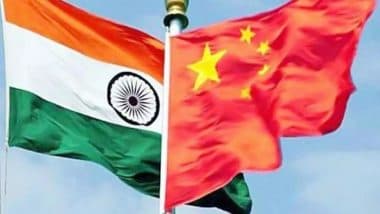 Beijing: Foreign Minister Wang Yi of China on Thursday promised that his country would help India in all possible ways in the war against COVID-19 and said that anti-pandemic materials made in China should be transported to India at a much faster pace. She has been In a letter to Foreign Minister S Jaishankar, Wang said that the Chinese side "condescenses and expresses deep sympathy for the challenges that India is facing". Niagara Falls: Niagara Falls painted in tricolor to support India fighting war against Corona
Chinese Ambassador to India Sun Weidong shared the letter on Twitter, stating, "The corona virus is a common enemy of humanity and the international community needs to be united and coordinated to combat it." The Chinese side supports the Indian government and the people there, in the fight against the epidemic. "
Wang said that anti-pandemic goods produced in China are being rapidly transported to India so that India can be helped in this pandemic.
He said, "The Chinese side will continue to provide as much support and help as possible to India's needs." We are hopeful and confident that under the leadership of the Government of India, people will overcome this epidemic as soon as possible. "
Wang's letter came at a time when the armies of the two countries are yet to return from the remaining tense areas of eastern Ladakh. The army of the two countries withdrew from the area of ​​Lake Pagong in February.
Meanwhile, China's foreign ministry spokesman Wang Wenbin on Thursday termed the US India Strategic Partnership Forum (USISPF) allegations as "fake news" that China is procuring from India to address the lack of oxygen in India Consignment of oxygen concentrators is stopped.
When asked about the news coming to the media, quoting Mukesh Aghi, President and Chief Executive Officer of Washington-based USISPF, Wang Wenbin said it was "fake news". In the news, Aghi was quoted as saying that China has stopped all cargo flights, thereby delaying their organization's efforts to transport one lakh oxygen concentrators from China to India.
The spokesman said, "This is fake news … The news of China stopping the transportation of oxygen producers purchased by the US to India is fake."
He, however, did not answer the question as to when will the official Sichuan Airlines start its flights, which has postponed all 11 of its cargo flights to India, disrupting the purchase of oxygen concentrators.
After the announcement of postponement of flights on 26 April in the wake of Kovid-19, the airlines had said that it is working on a new plan to start services. The new schedule of flights, however, has not been released yet.
(This is an unedited and auto-generated story from a syndicated news feed, there is a possibility that it has not been changed or edited by the latest staff)