'Bigg Boss 14' This week again comes the moment when the sword of nomination hangs on the heads of the householders and everyone is in a dilemma about who should be nominated to protect themselves and who doesn't. To make this week's nomination even more interesting, the makers made two fun tasks.
'Bibi ki Adalat' and Qurbani Task. Yes, it is being told that both these tasks were done to nominate family members. Whoever loses in these tasks will be nominated directly for homelessness. The news is coming that Rubina Dilac lost in the Turbaani Task and hence she has been nominated to be homeless.

Rubina had demanded Ali's sacrifice for Jasmine
In the Qurbani task, Rubina told Jasmine Bhasin that if she wanted to save him from being homeless, she would have to nominate Ali Goni to be homeless. Jasmine Bhasin starts crying on hearing this. However, it is not clear yet whether Jasmine really saved Rubina or friend Ali Gony.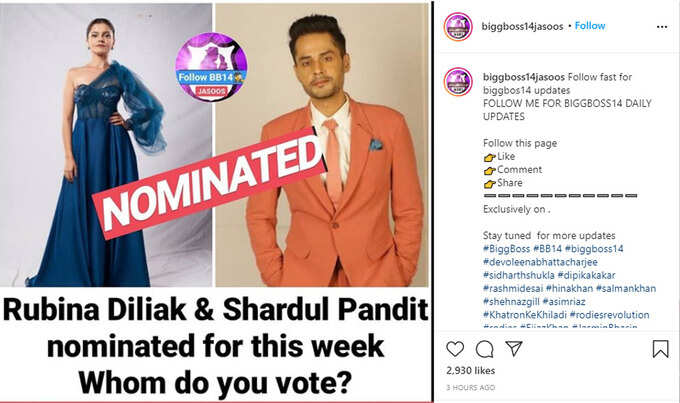 Read: Rubina asks Ali Goni for 'sacrifice' from Jasmine, says – nominate her

Shardul was nominated last week too, will he survive this time?
At the same time, Shardul Pandit lost in the 'Bibi Ki Adalat' task, which was conducted by Farah Khan with two journalists. He is nominated to be homeless after losing. It remains to be seen who will be out this week among Rubina Dilac and Shardul Pandit. Shardul was also nominated to be homeless last week, but the audience was heartbroken after hearing the story of his financial crisis and struggle with Ejaz Khan and the appeal of votes for him on social media. He became safe last week. It remains to be seen whether Shardul survives this week.
.